"
Welcome to the future of Object Lockdown.
"

–The sun of the Wayne is going Down.
Breaking the Mold is the fifth episode of Object Lockdown, and aired on April 10, 2017.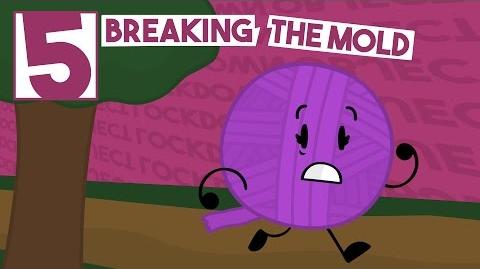 Synopsis
The Lockdown Session
The episode begins with the elimination, where Lock first mentions that this specific elimination was going to be different since the contestants on the Safe Team were going to eliminate one of the contestants on the Danger Team. Acorn told Lock that he thought that the show didn't have any eliminations, but she then responds to him by saying that once the Danger Team had three contestants that were locked down to it, all three of them would leave the show, which made Moon upset. However, only three contestants on the Danger Team have been voted for at least once: Umbrella, Balloon, and Cone. Eventually, Balloon received the most amount of votes and was told that she was going to have to get off the show with Moon and Limey immediately. Speaking of Limey, he wondered what box they were going to be put in for "the next five billion years", although he soon learned that instead of going to some box to stay in until the show was over, they were going home (being the Seaside Apartments) instead that way no one would get sued for trapping them somewhere for an uncertain amount of time.
The Challenge
Trivia
Starting with this episode, Object Lockdown has stopped using assets from Battle for Dream Island and used completely custom assets made by Wuggle himself instead.
This episode was the first episode to be released in the first half of a year. All other episodes so far have been released from July-December.

However, this will likely change with Episode 8.

Despite being one of this episode's winners, Can never appears during the challenge. He only appears during Lock's explanation.
The episode was originally supposed to release on April 14, 2017. However, TheWuggleJack finished it early, and so, he released it early.
Errors/Goofs
At certain points in the episode, the girls lose their eyelashes sometimes, examples include when Yarn is being threatened by Umbrella, and she loses her eyelashes. (This was likely a mistake that went unnoticed by the animator in the scene that this goof happened)
In one scene when Notebook and Bucket we're watching Killer Show 54, Notebook was in the right and Bucket was on the left but in the next shot they switch places.
Gallery